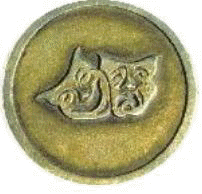 Cedar County Theatre
Visit this page for news and updates.
Check out our Myspace page for information and photos of our past productions!!!! Click here to visit http://www.myspace.com/cedarcountytheatre
We have moved all of our information to MySpace for ease and accessibility for our patrons. If you have any questions or concerns, please email us at cedarcountytheatre@hotmail.com, or write to us at Cedar County Theatre, P.O. Box 752, Hartington, NE 68739. We will be using this page for Press releases and other Cedar County Theatre related news.
---
Next Board Meetings: 7pm May 20, 2009 (Regular) ..... June 17, 2009 (Election of Officers)
---
04-14-09 Murder at Mardi Gras. Video and photos are posted at our group's Myspace page. Click here to go to our Myspace page.
---
03-23-09 Press Release
TWO COMMUNITY GROUPS JOIN FORCES

The Friends of the Library and the Cedar County Theatre have joined forces for a special fundraising event and the main dish is murder! Murder at Mardi Gras, a murder/mystery dinner theater, will be performed at the Hartington Golf & Country Club on Saturday, March 28th. Julie Meirose, representing the Friends of the Library, approached Cedar County Theatre President Shelley Lammers, with the idea of collaboration. This is the first time these groups have come together for such a big event.
According to Lammers, "The CCT Board has tossed around the idea of producing a dinner theater event since our group's inception. When Julie approached our Board, it was just too good to pass up." Suspects in the evening line-up include Tom Grube, Julia Kleinschmit-Rembert, A.J. Johnson, Elsie Lauer, Beau Fleming, Lynn Kathol, Maddie Bromwich and Roger Filips; with supporting roles provided by Ron Pearson, Jimmy Anderson and Julie Meirose.
"This is a one-performance event. Since we are serving a meal and need proper head-counts, tickets must be purchased in advance," says Meirose. "We will be serving hors d'vours, salad, entree and dessert. Punch will be available. Beyond that, the Country Club is providing a cash bar." Tickets are available this week at D & J Variety and the Hartington Public Library. Tickets are $15.00 per person. If you and your friends wish to figure out the murder together, for an extra $20.00 you can reserve a table for 8, which comes with extra perks. Social hour begins at 6:00 p.m. with hors d'vours. Meal and showtime begin at 6:45 p.m. Don't miss a fun, fundraising evening with the Friends of the Library and the Cedar County Theater. Get your tickets today! For more information, contact D & J Variety at 254-3546, or the Library at 254-6245.
---
02-18-09 Press Release
Hartington, NE: Whodunnit???? That is the question that will be answered on March 28, when the Friends of the Library and the Cedar County Theatre collaborate to fundraise, through an audience participation murder mystery dinner theatre. "Murder At The Mardi Gras" will be held at the Hartington Country Club on March 28th, 6:00 p.m. social hour, meal and showtime 6:45 p.m. Tickets are $15 and are available at the Hartington Public Library and D&J Variety – advanced ticket sales only. An extra $20 reserves a table for 8 with perks!!! Mark your calendars – you won't want to miss this!!!
---
---

Murder at Mardi Gras from Cedar County Theatre on Vimeo.
---
---
---